The latest energy news.
Cushman & Wakefield and Premiere Energy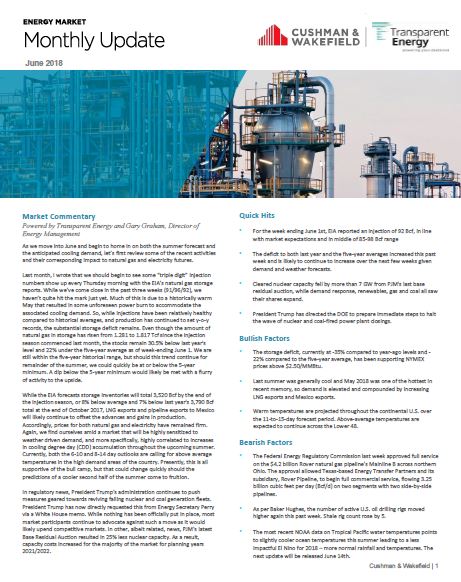 Auctions have released their Energy Market Update for June 2018. These monthly reports provide an overview of the economic, geopolitical, and meteorological factors affecting the energy market.
Warm temperatures result in an unforeseen power burn to accommodate cooling demand.
Last month, we noted that we should begin to see some "triple-digit" injection numbers in the EIA's natural gas storage reports. While we've come close to those numbers over the last three weeks (91/96/92), we haven't quite reached the mark yet. This is due to a historically warm May that resulted in some unforeseen power burn to accommodate the associated cooling demand. So while injections have been relatively healthy compared to historical averages, and production has continued to set year-over-year records, the substantial storage deficit remains. We are still within the five-year historical range, but if this trend should continue for the rest of the summer, we could quickly be at or below the five-year minimum. A dip below that would likely result in a flurry of activity to the upside.
In regulatory news, the Trump Administration continues to push measures geared toward reviving failing nuclear and coal generation fleets. While nothing has been officially put in place, most market participants continue to advocate against such a move, as it would likely upend competitive markets.
Other important energy industry news.
Cleared nuclear capacity fell by more than 7GW from PJM's last base residual auction, while demand response—renewables, gas, and coal—all saw their shares expand.
The storage deficit, currently at -35% compared to levels at this time last year and -22% compared to the five-year average, has been supporting NYMEX prices above $2.50/MMBtu.
The most recent NOAA data on Tropical Pacific water temperatures point to slightly cooler ocean temperatures this summer, leading to a less impactful El Nino for 2018.
To learn more about these updates and to get the latest gas prices, electricity price trends, natural gas data highlights, and temperature probabilities read the full energy update.
If you have any questions, Gary Graham, our director of energy management, can take you through the report.