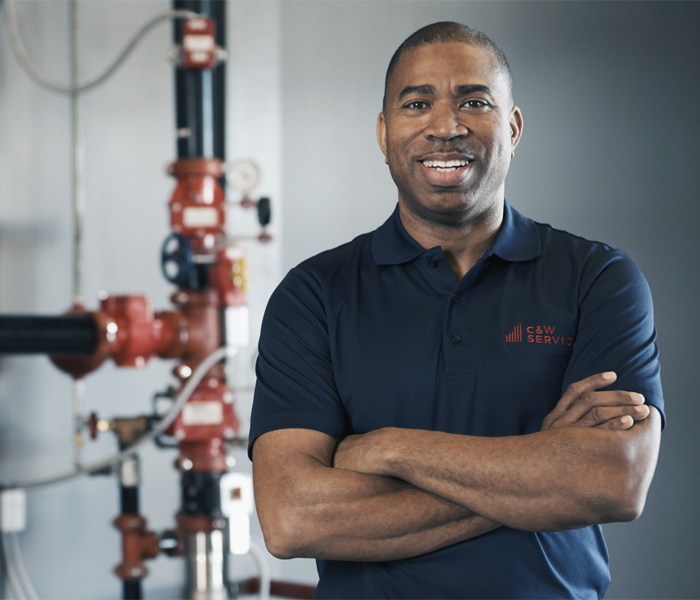 Meet Ron.
Just like every day, it's a busy day for a financial services client that Ron supports, and his tasks are all over the place.
David, Ron's manager, may be his supervisor, but, as he says: "Ron is the manager of everything else."
The aforementioned financial services client site has a large janitorial, maintenance and landscaping outsourcing group, but the team realized the customer needed support in many other ways that did not directly fall under those areas. "Ron and his team are dedicated to a wide array of support services, mostly inglorious, which is not efficient for our customer to staff," says David.
Think about this for a second. Most businesses have a pretty clear value proposition about the one thing they do in the marketplace and how they deliver that better than everyone else. But while they deliver their unique offering, there are so many background jobs that need to be in place—and often delivered to a unique set of corporate cultural standards—to keep a workplace running. This customer sees the value in outsourcing, and as a result, Ron oversees a collection of critical functions, none of which are core to the customer's business. He manages the workplace shuttle program, mailroom services and management of the client lamp replacement program, which encompasses 86,000 lamps. Given six months to retrofit all 86,000, his team completed the job in four, saving more than 1.5 million kWh a year—enough energy to power more than 130 U.S. homes.
His special skill is management.
The services Ron supports may seem divergent, but he brings a strong skill set in people, task and project management. All his areas of oversight stay up and running, and the customer doesn't have to give it a thought.
"It's interesting how [my position] has evolved," Ron acknowledges.
His team of 30 staff members has proven to the customer that they can take any seemingly random workplace task, such as releasing 80,000 ladybugs for organic pest control, and apply governance procedures mixed with some innovative thinking to keep things at peak performance.
Who takes care of your facilities?
Ron is one of many stories we have from the field that demonstrate how our team's culture is the backbone of our service delivery success.
Do you have tasks managed by FTEs that could run more effectively with a leader like Ron?
Let's connect about how our highly engaged team can help you.
Get inspired and read more stories about employees just like Ron.