Meet Ruben.
Back in 1986, Ruben worked at a candle factory. That promptly ended when his friend told him about a part-time janitorial position in an office space working for C&W Services.
In a six-month time span, Ruben quickly became full-time after telling his manager he was more than capable.
That was 30 years ago.
Now, Ruben is an account manager at a pharmaceutical company in Boston—a position he's held for 22 years.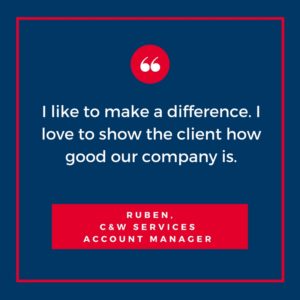 Making safety a priority.
Recently, a client praised him for his hard work and the diligence he has in providing high-quality facilities services at the site.
"Ruben and his team do an excellent job for us," the client says. "He very much cares for his employees and pays great attention to the client."
The team especially excels in safety—they're close to 1,000 days without any incidents.
Ruben credits some of this to the safety training that him and his entire team, along with all C&W Services employees across North America, receive.
"We're trained well to make sure if we come to work with two hands we're going to leave with two hands," says Ruben. "We receive such a high level of training to make sure that everyone works safely and comes home safely."
Dedication to the client.
—He goes above and beyond in many areas," says the client. "When asked, he helps us with many things not necessarily part of his scope."
For Ruben, delivering high-quality work is just part of his personality.
"I like to make a difference," he says. "I love to show the client how good our company is and how well we can take care of their needs."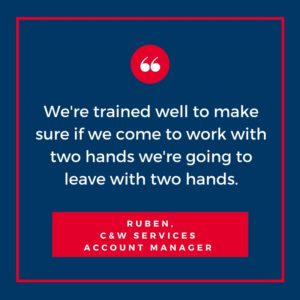 Time flies.
In looking back at his work, Ruben is proud of the past 30 years—and he doesn't see himself going anywhere soon.
"It's been a long run," he says. "I hope I get 30 more years."
Who takes care of your facilities?
Ruben is one of many stories we have from the field that demonstrate how our team's culture is the backbone of our service delivery success.
Get inspired and read more stories about employees just like Ruben.
Let's connect about how our highly engaged team can help you.