As second-year members of The Construction Industry Advisory Council (CIAC), C&W Services participated in the Fall 2017 Construction Science CIAC Career Fair held at Texas A&M University in College Station, Texas. We attended the fair with the aim of finding interns for our 2018 summer internship program. Internships are open to students at Texas A&M who are currently enrolled in the College of Architecture Construction Science Department and have an interest in facilities management. C&W Services is committed to introducing more students to facilities management and promoting FM as a career of choice.
There is a growing facilities management workforce talent gap because over half of today's facilities practitioners could retire in the next 5-15 years. Through programs like the CIAC summer internships, our support of whatisfm.com, and our work with IFMA's Global Workforce Initiative, we are working to introduce the FM profession to students.
A number of C&W Services team members attended the event, including Juan Gomez, our Senior Director of Human Resources; Michael Johnson, Director of Operations for the North Region; Angie Taylor, Alliance Manager; and Stephanie Smith, Regional Administrator for the West Region.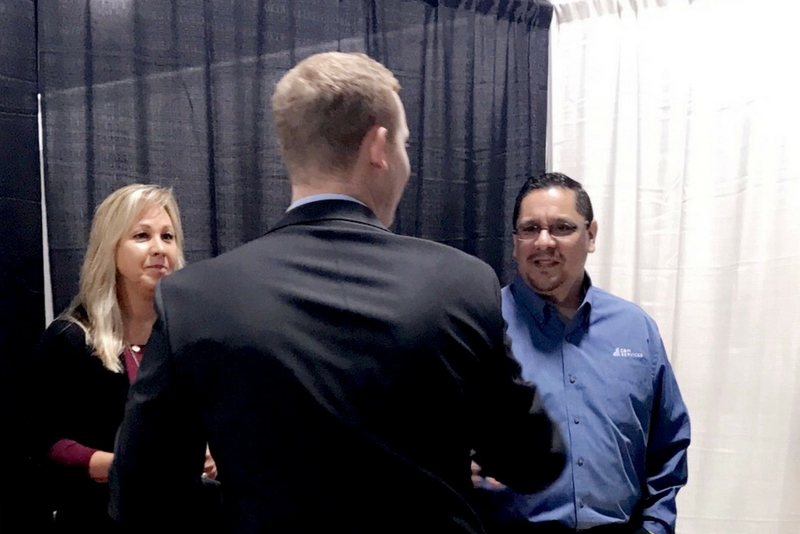 Last year C&W Services successfully placed three interns at top companies in Texas and Silicon Valley. The interns experienced hands-on what a day in the life of an FM is like, helping solve problems and increase productivity across their respective sites. The internships lasted for 10 weeks with ongoing support throughout from C&W Services leaders. In addition to learning more about facilities management and what facilities managers do, all internships include writing intensive course components. Students are required to submit weekly reports that are graded for content, clarity, and completeness.
This year the Construction Science Department at Texas A&M broke the record for participation and attendance at the career fair. "Traffic to the C&W Services booth this year was impressive and we interviewed a number of highly qualified candidates," says Stephanie Smith, who works in our Dallas office. "Having to choose only two was difficult, and we look forward to next year's event." The interns who completed the program last year also attended the event to talk about their experience and answer questions from prospective applicants.
As a result of the event, two applicants were selected to participate in the upcoming summer 2018 program. The team is very excited to welcome these new members to the internship program and to further promote FM as a career of choice for students.