Meet Timothy.
Facilities services jobs can be physically demanding. Many employees have to bend over often, and repetitive tasks can be tough on the knees or back.
Timothy, an engineer at a Massachusetts client site, wanted to fix that problem. To do so, he created a tile-lifting tool to help the team when they raise the floor to test smoke detectors and anything else they might need to raise the floor for. At Timothy's count, they move about 400 tiles each project—that's a lot of repetitive stress that can cause pain or even an injury.
?[The tool] saves on your back from bending over constantly," says Timothy.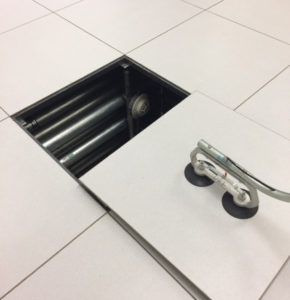 A pat on the back.
To use the device, Timothy works ahead of the rest of his team, lifting the tiles and pushing them across the floor while they are behind him testing the smoke detectors. He then pops them back into place as the team finishes.
Not only is it good for your back, it's also a time saver. Timothy estimates it probably saves staff about 60 minutes.
It took Timothy only one hour to make it and cost about $5 in parts. He used bicycle parts, electric conduit and suction cups.
He notes that reception of the tool has been increasingly positive, and that their sister building in Westborough has started using it.
"My supervisor was praising me up and down for inventing it," he says. "It's a great tool."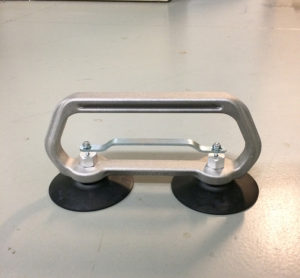 Inspiration from others.
Timothy got the idea after seeing something similar at a data center he once worked at. The major difference of the data center's tool was that the handle sat straight up and not offset like his.
"It seemed to be a little cumbersome to my liking," he says. "Making one offset would be a little more user friendly."
While his creation may seem astounding to others, Timothy doesn't make too much of a deal about it—fixing things is what he does, even outside of work.
"I'm a jack of all trades," he says. "There isn't much I can't do. I'm well-rounded in all aspects of life. I know a little about a lot."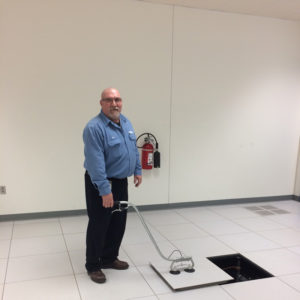 A lifestyle not a hobby.
Timothy started his career in the trades first in construction in carpentry. Even before that, his dad—a carpenter—showed him how to fix things around the house.
"We never hired anyone to come fix anything at my house growing up," he says. "It's always been my mentality to try to fix it myself before you go out and hire someone to fix it."
A real-life example of his penchant for fixing things himself is his wife's luggage.
While on vacation, the plastic leg of her suitcase broke. Instead of purchasing a new one, Timothy bent a piece of metal to mimic the other plastic leg, drilled holes to affix it to the suitcase and painted it black to match.
"It's actually better than the plastic one," he says. "Before, you went to the airport and stood it up and it would fall over. Well, it doesn't fall over anymore."
Innovation running rampant.
Timothy isn't the only innovative C&W Services employee who has brought new ideas to the team.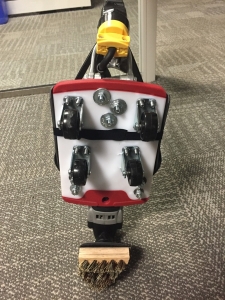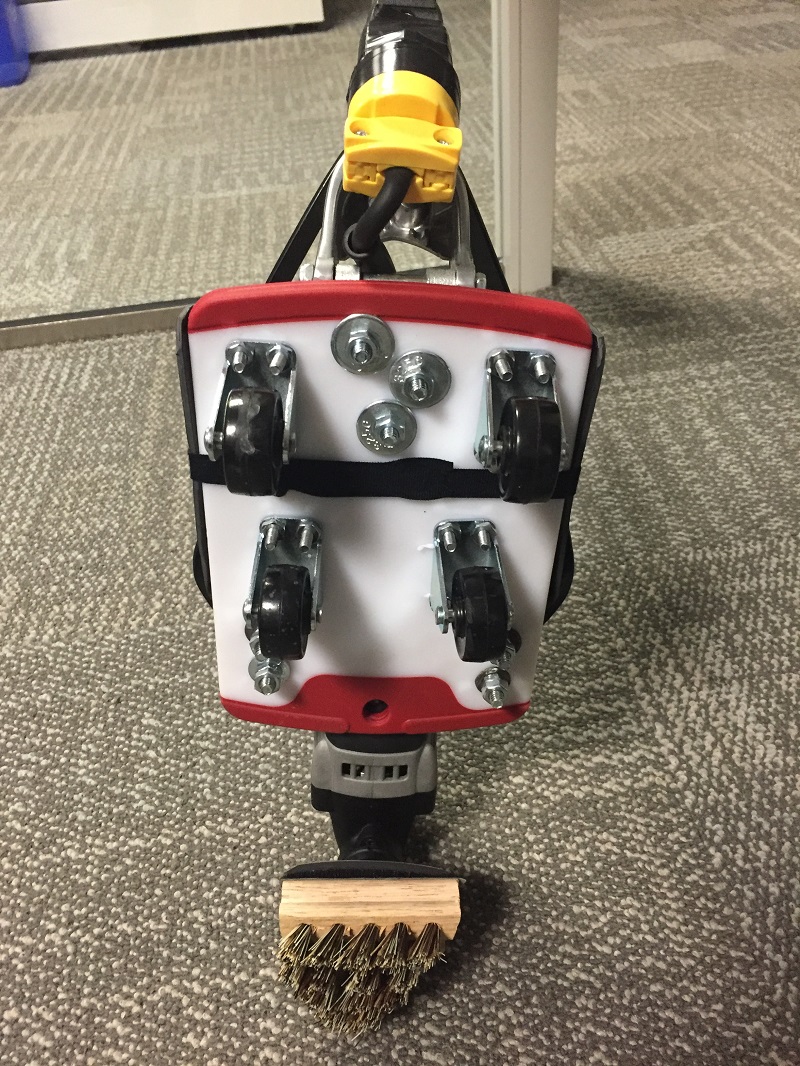 Back in February, Joe—director of operations at a Toronto corporate headquarters—created a grout-removing tool that made the process safer, quicker and more comfortable. The agitation cleaner was made out of materials he found in his garage, including a Dremel tool and bicycle parts.
While the ultimate goal of Joe's tool was to ease the lives of employees, Chris worked to ease the life of a student at one of our client sites.
A facilities manager at a school in a Boston suburb, Chris used an open box with a lightbulb that could be plugged into a wall for a student who had a tendency to turn the lights on and off in a classroom whenever he was stressed. For that same student, he installed an AC unit for the child's overheating issues.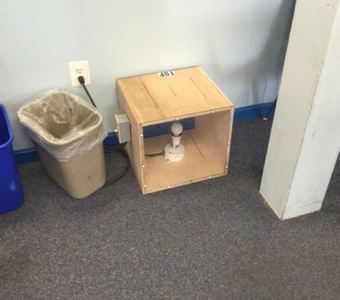 Our employees are dedicated to solving problems for both themselves and our clients. We're constantly in awe of what they can do and are always on the lookout for new ideas.
Who takes care of your facilities?
Timothy is one of many stories we have from the field that demonstrate how our team's culture is the backbone of our service delivery success.
Get inspired and read more stories about employees just like Timothy.
Let's connect about how our highly engaged team can help you.