Celebrating the profession that impacts everyone, everywhere.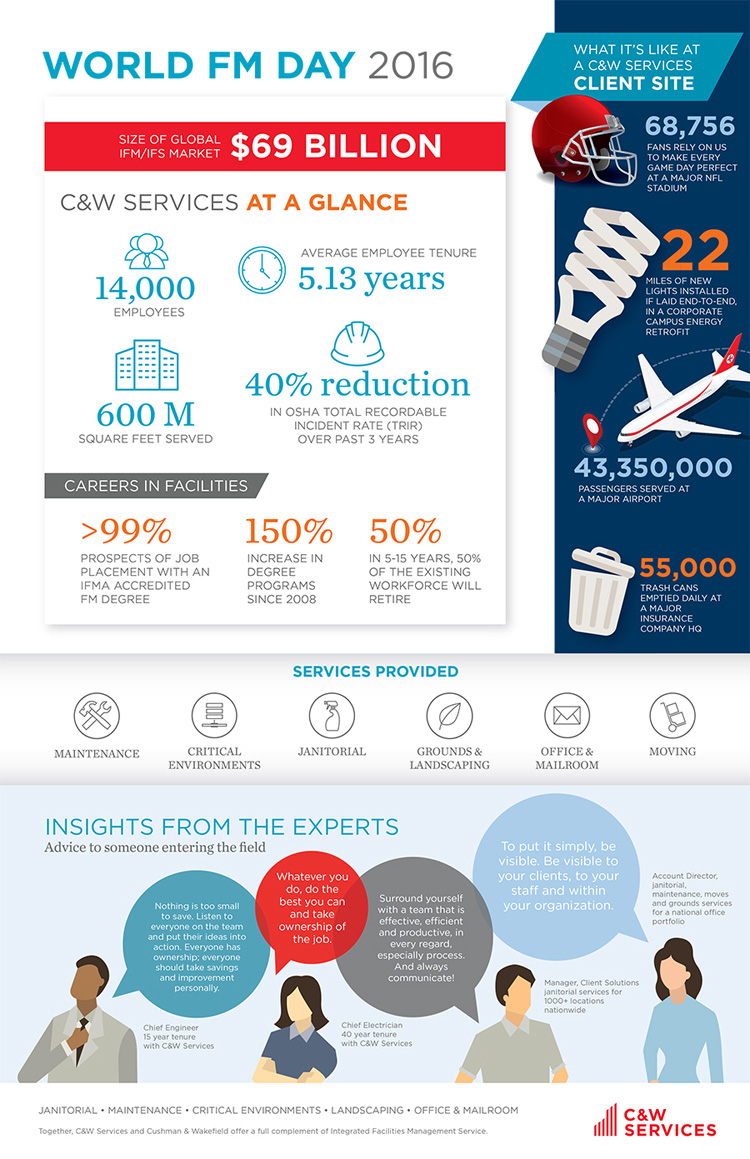 On World FM Day, it's fitting that we reflect on the hundreds of ideas and gestures, large and small, that are carried out by our team members to help their clients every day. World FM Day recognizes the vital work that facilities professionals play in keeping the built world safe, clean, and productive. Providing facilities services—maintenance, critical environments, janitorial, grounds keeping and other site services" is a rich and fulfilling endeavor, and the industry has enormous potential for its employees' career growth. We're proud of the C&W Services staff who serve our clients every day, and we're excited about bringing new people into facilities services. To learn more about facilities services and what it's like to be part of C&W Services, download our World FM Day infographic.
Making facilities careers even more rewarding.
Today, on World FM Day, we're taking our recognition of service excellence to the next level. C&W Services is celebrating by introducing a new rewards program for its front-line hourly employees who serve more than 600 clients in North America. While employee recognition is a well-established part of C&W Services" culture, the new Spot Rewards program encourages managers to recognize exceptional performance. The program will also help capture and share stories about team members who create exceptional experiences for their clients, and the people who occupy their buildings.
Every day across North America, our team members provide the maintenance and janitorial services that keep their client sites operating efficiently. But beyond this core competency, they have a personal connection and level of care in the way they understand client needs and go out of their way to meet them. Site after site, day in and day out, we see this "extra level" of service delivery. In celebration of World FM Day, take a minute to read some of those stories and others that will be posted later this week to learn more about how we can bring service excellence to your facilities.